Napa Winemakers Count Their Blessings After Quake
Beyond the fallen barrels and broken glass, the lasting image of Sunday's (26 Aug 2014) earthquake in Napa Valley might be Trefethen Family Vineyards' 127-year-old tasting room, which was bulging out and leaning noticeably to the right.
It turns out the building might be saved.
Trefethen CEO Jon Ruel said Monday that there is no cost estimate yet for restoring the building, but if it's possible, the family wants to do it.
"The building was built as a winery in 1886. It's very special because there are very few wineries standing from that period," Ruel told Wine Searcher.
"When we first saw it (Sunday), we thought, wow, that's it. The first engineer we had on site said: 'Wood is really resilient. If this had been a stone structure, once you have some cracks, that's it.' The upper stories shifted about four feet to the west. The building is still on the foundation. Based on what we can see, even the upstairs is still fine. In many ways, we can count our blessings."
Ruel was not alone in feeling lucky one day after the worst earthquake in Northern California for 25 years. It measured 6.0 on the Richter scale and shook up southern Napa Valley causing an estimated $1 billion in damage.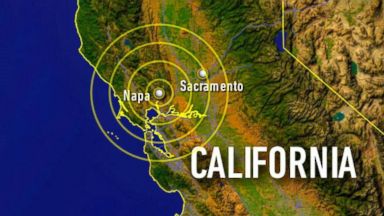 Saintsbury lost 30 cases of its library wines in Sunday morning's quake, yet co-founder David Graves knew that it could have been worse.
Nine years ago, Saintsbury lost 3000 cases of older wine it had stored in a warehouse on Mare Island to a fire set by an arsonist.
"That loss makes this one a little easier to put in perspective," Graves told Wine Searcher.
In 2005, Saintsbury's losses included "wines that were made with the moral support of my family, many of whom were no longer with me," Graves said.
"Many of those wines were a manifestation of those relationships. That was a heavy blow. But that's done; this could have been worse. We're glad the earthquake didn't draw blood. My house is next to a house in Napa that's being condemned."
Graves was one of many winery owners in Napa who came in to work on Monday to find the damage wasn't as bad as they feared.
More than 200 injuries have been reported but there were no fatalities, and Napa Valley Vintners said in a statement that "there were no reports of winery employees being injured".
Many wineries had broken glass and wine to clean up off the floor and some, including Lagier-Meredith, BR Cohn and Hess Collection, suffered severe losses. But, in most cases, wineries discovered Monday that earthquake-proofing their buildings had helped.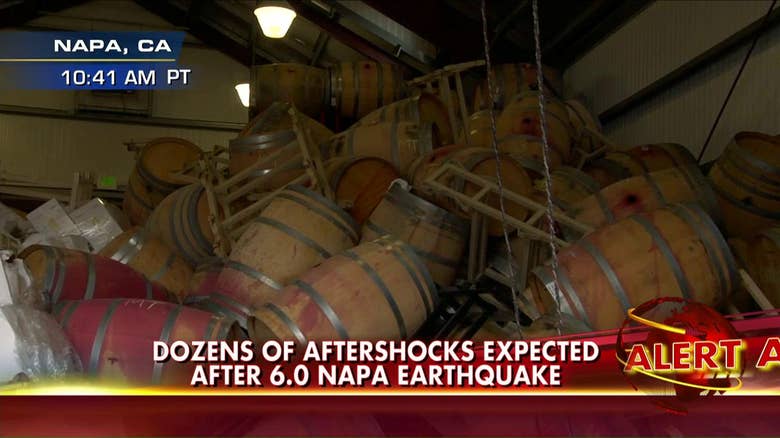 Bronco Wine Company, which has a huge distribution center near the epicenter in American Canyon, had "a few bottles rattled," according to spokesman Harvey Posert.
Graves said: "My next-door neighbor works for Treasury (owner of Beringer). He volunteered that their two-million case airport facility lost only a few cases."
Hugh Reimer, COO of Jackson Family Wines, said: "Our major distribution center is in American Canyon. We had a few hundred cases of breakage. The whole industry was fairly lucky it was a 6.0 and not a 6.8."
One sign of the limited damage to the industry was the action at an online volunteer board set up by Wine Industry Insight. As of 5 p.m. Monday, while a number of people had volunteered cleanup assistance, no winery had posted that it needed volunteers.
Arpad Molnar owns a vineyard right at the epicenter of the quake. He said on Monday that there were several 10- to 15-foot long cracks in it, but no grapevines or irrigation lines were lost.
"The vineyard is called Poseidon Vineyard," Molnar said. "Poseidon was known as the earth-shaker. It's an uncanny coincidence."
More than 60 buildings have been red-tagged, meaning they are unsafe to enter. Considering that, the wine industry may have been let off lightly. Trefethen's building was the only winery building reportedly unsafe to enter on Monday. But Trefethen's production facilities, in a separate building, were undamaged.
Moreover, while the 1886 building is also used for storing up to 300 barrels of wine, only 10 barrels were in it at the time of the quake.
"My office looks like a tornado hit it, and every room looks like that," Ruel said. "But our first concern was the wine. We had our 2013 Cabernet in tanks, and those are the tanks that moved around. But the floor was still dry and the wine was still in the tank and we were able to relocate our entire 2013 Cabernet, which was awesome."
Graves said the timing of the earthquake was about as fortunate as could be. Most wineries have bottled their 2012 red wines and have barely started picking grapes this year, so only 2013 red wines were affected. And 2013 was California's largest harvest ever, so the overall wine market will never notice a difference.
"It happened at 3:20 in the morning," Graves said. "A lot of people were out of harm's way by definition. Then you start to think about the cycle of what everybody does. If we'd had this in March, we'd have wine in barrels all over the floor. We were picking up empty barrels today, because all of our wine had been bottled. If it were two weeks later, we would have had full tanks. Our tanks were empty and they were thrown all around. I don't know what this would have done if they were full."
Ruel said by 6 p.m. Monday, Trefethen was starting to feel almost normal.
"It's amazing what a broom and a dustpan will do."
Categories
Latest Posts